Bio


JANELLE has been one of Canada's most successful Christian music artists over the past 10 years. By the time she was 25 years old, she'd sung for the Pope, the Queen of England and worked with music industry stars such as Michael W. Smith and David Foster.

Janelle's love of music started at a young age as her mother taught her old French folk songs and encouraged her to sing at church. By the time she was 14, she was the lead female vocalist in a praise and Worship band that gathered 400-600 youth once a month on Sunday nights. It's here that in 1995, she met her dream guy, Jason Reinhart, who joined the band as the electric guitar player, when Janelle was only 15 years old.

On July 10th, 1999, Jason and Janelle married at St. Emile's Catholic Church in her small French hometown of Legal, AB. With Jason doing double duty as her manager and guitar player, Janelle was soon headed for unprecedented success. Her professional Christian music and speaking career was launched in 2002, when the 22 year old dynamo was chosen to be the World Youth Day theme song singer for Pope John Paul II's visit to Toronto, Canada. There, the bilingual singer sang for the late pope and over 1 million people live, all the while being 7 months pregnant with their first son, Eric!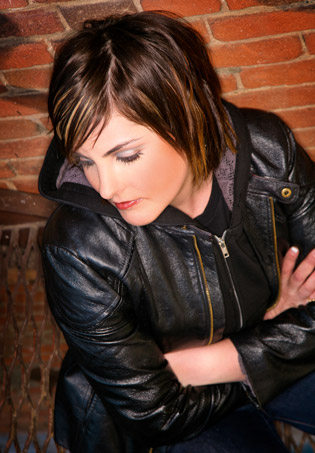 Since then she has released 3 radio chart topping albums, has appeared in numerous radio, TV, magazine, and Newspaper interviews and has been garnered with several music industry awards including, "Best New Artist", "Cotemporary Album of the year", "Female Singer of the Year" and 2 Juno nominations, which are the equivalent of the American Grammys. She has toured extensively across Canada, the USA, New Zealand and parts of Europe and continues to inspire lives with her Christ centered testimony and pop rock grooves.

In 2005, Janelle became an ambassador for Pure Fashion, a movement that pairs style and virtue to help train young women in modesty and purity in order to change the world one outfit at a time.

Janelle currently lives in Lloydminster, AB, alongside her husband Jason and their 4 children, Eric, Monique, Joshua and Michael.

Her music with a message continues to change lives around the globe and she counts it a true blessing to be able to minister God's healing, encouragement and hope to a world desperate to hear and know it.